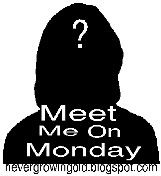 We thought you might like to get to know us better so we will do this meme now and then hosted by Never Growing Old. Here's the
questions from last week
because I work so don't have time to do these posts on Monday mornings.
Questions:
1. Do you have any New Year's resolutions?
2. What food item are you craving right now?
3. When is your birthday?
4. What were you doing an hour ago?
5. Last thing you cooked?
1. Our New Year's resolutions are:
Read 100 books each in 2011. Last year Gerard read 98 and Karen read 89.
Do something fun every week--preferably every day but want to keep this doable.
Try two new things, go to 4 new places in 2011.
Donate $25 to sponsor a dog at Best Friends on a bi-monthly basis.
Work out at least three times a week.
Karen: Take more breaks from the computer. I sit entirely too much which isn't healthy. Gerard is always on the go, he walks around all day at work. (When I do read on breaks at work, I walk as I read.)
Give up the donuts.
Be a blessing to someone each day.
Here's how we did last year: How Did You Do On Last Year's Resolutions?
Christmas Dinner 2010
2. I'm not craving any food at the moment. I just had cereal two hours ago.
3. Our birthdays are both the first half of December, just 10 days apart.
4. An hour ago, Gerard was walking our dog, Abby and Karen was working on our blogs.
5. Last thing Karen cooked was
scrambled eggs
in the microwave and Gerard last cooked sloppy Joes for our Christmas dinner. Karen bought those reindeer double-decker cookies with the chocolate frosting. We usually don't cook.